Following reports of his alleged demise in the UK, President Muhammadu Buhari has confirmed and provided evidence that he is alive and well.
The president took to his personal Twitter to release a picture of himself lounging in the UK and watching political television show 'Sunday Politics' on Channels.
The perfectly-timed picture was released just about the time the live show was being aired in Nigeria.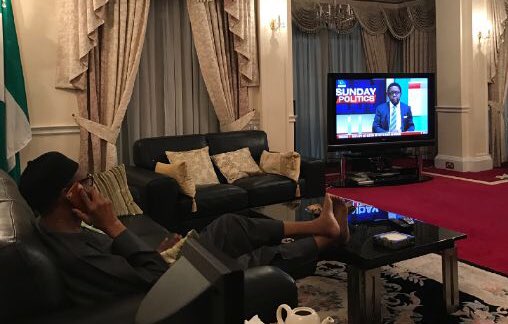 Wherever I am, I keep up with news from home. Channels TV is one of my favorites. I'm proud of what the Nigerian media are achieving.
The president's top critic Ekiti state governor Ayodele Fayose was on the show last night alleging that the abduction of the Chibok girls was a planned work.
Recall that the presidency has denied a report by some media that President Buhari, who is holidaying abroad, is dead.
The disturbing report has first been broken by an alleged fake Metro (UK) site that "quoted" the Nigerian mission in the country as confirming the president's death.
The report claimed that Buhari visited the UK for medical check over an unknown disease adding that details of his death were still sketchy.
All of these have now been totally proved to be false.
Credits: Naij.com